Transporting you back to the roaring 20s
We wanted our Gatsby inspired show to reflect the extravagance and spectacle of the era and so went all in on the visuals to make it truly special, we even used green screen technology to heighten the show's aesthetic impact!
The Show
Featuring Lola, a Showgirl with yellow feathers in her hair and a dress cut down to there, and a whole host of fabled characters from Barry Manilow's legendary song, 'Copacabana', the show sees lovable bar tender Tony and diamond wearing villain Rico vie for Lola's affection as the show heats up faster than the Caribbean in summer. The show has a glittering set, art deco sculptured costumes, and tons of feathers and beads. There's even a gunshot… but who shot who?
And the songs – Well they're a fusion of upbeat modern pop, 1920s rhythms and Latin American sounds, very Great Gatsby. We've even got a Charleston Crazy in Love, a cabaret Call Me Maybe and a Speakeasy styled Sex Bomb.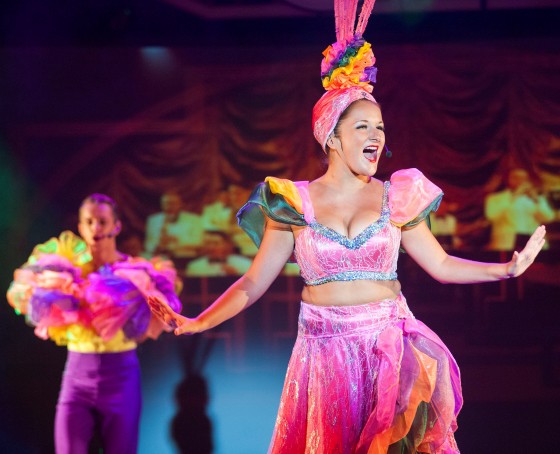 Green Screen
We wanted to integrate a special live band into the show, playing congas, guiros and timbales so we commissioned some talented musicians from Leeds College of Music and filmed and recorded them at Stills International, a special green screen studio in Bradford.
Our designers then worked their magic on the post production and chroma keyed the background into a suitably sultry set. After setting up the back projection screen, the footage was ready to go into the show. We even had our main actor who plays, Lola, at the filming and at one point during the show she pops up flirting with the band members on the screen, before re-joining the action onstage.