Think Glastonbury of the sea!
With live music, drinks, face painting and even henna tattoos it's like you're at your very own music festival (except without the mud!).
As a concept, we wanted to come up with a way of making our entertainment more accessible, particularly for those passengers enjoying the weather out on deck. We came up with the idea of hosting a ship wide festival where passengers could easily switch between performances and fully get into the spirit of al fresco entertainment.
What followed? Deck Fest has become a hugely popular event that passengers and performers alike look forward to each cruise.
The first thing we did was come up with colourful branding and get it printed onto bunting, flags, wristbands, lanyards, crew t-shirts, you name it – we make it happen and we make it ship wide. Each deck is given a festival-like theme: Deck 8 is Open Mic & Alternative Stage, Deck 10 is the Live Lounge, while Decks 11&12 are the Main Stages.
Each of our Musicians' sets are themed to link to a famous festival performance from a particular group or artist, like festival legends Blondie, Oasis and The Killers. Our Entertainment team and Showteam perform all around the ship for one night only, having learned cabarets and practiced with the resident bands.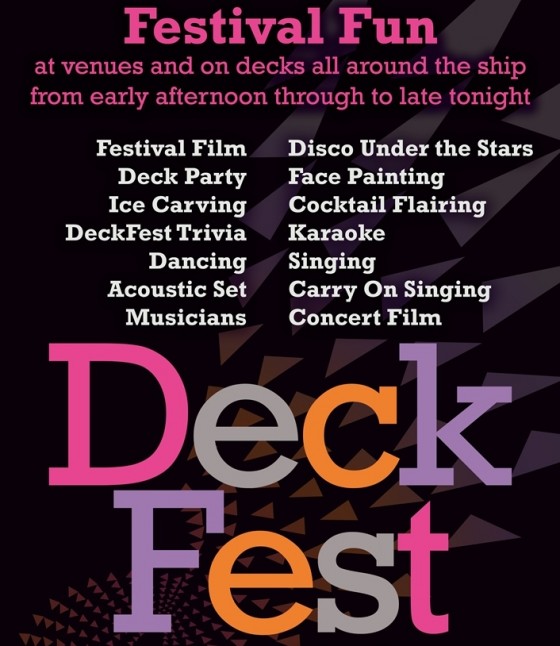 A big bonus for the night is the live music elements where we see all Musicans and the Showteam come together for powerful performances.
Around the Main Stage, there's always plenty of demonstrations from the Hotel staff. From cocktail flaring, ice carving and fruit and veg carving there's a lot of talent showcased.
The Spa and Salon team offer shoulder massages whilst the photo team offer green screened picture opportunities.
There's also juggling classes, face painting, temporary henna tattoos, hair braiding, pop up sports events, on deck gameshows, 'bandeoke' not to mention fully choreographed performances around the pool! Then after hours, there's our DJ set that keeps the party going until late.