All the fun of the fair
Fairground Attraction is one of our high end production shows that's been running onboard Thomson Cruises for the past year. When we first pitched the idea to our stage designers, they nearly had a heart attack.
The show follows childhood sweethearts Valerie and Johnny who are forced to split after Valerie hits the big-time. As a hesitant Valerie gets ready for her US tour, Johnny looks for a new life, finding the thrills and spills of the fairground help him mend his broken heart.
Hidden amongst candy floss and bright lights, we wait to see if the couple can recover their lost love, despite their polar lives.
The Music
We really wanted to do something fun and contemporary with this show so we carefully selected a huge range of songs to get audiences of all ages singing along. From 50s jukebox classics to modern chart toppers, Meatloaf to Cee Lo Green, we've bridged the gap between generations so everyone can feel the fun of the fair.
The Stage
It's not just the plot that twists and turns! The set of Fairground Attraction was, in the tactful words of our set designers, "the most ambitious set we have ever put on a ship" and subsequently the largest. Our idea was to really bring the fairground to life and so the set is built around a giant working helter skelter.
There's also a lifesize moving dodgem car and a real spinning waltzer, all specially made by our team to fit ship safety regulations.
The Costumes
With detailed props, flashing neon hula hoops and sculptural cupcake costumes, this show really is a treat for the eyes.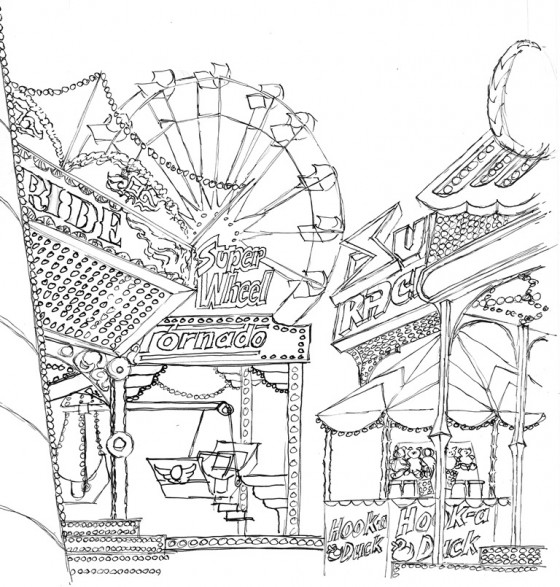 take a trip to the funnest fair in town!