Our enchanted English garden
We created an atmospheric woodland for a high calibre party at Broughton Hall – and what we fashioned was so magical, we've been asked to do it again and again!
Based on English literary characters, our fairy woodland is a live and interactive theatrical installation. A journey through the best in British fantasy, guests find themselves in a cloud of pink smoke created by meddlesome Puck, having a tea party with Alice and the Mad Hatter, entering the gates of Narnia with Mr Tumnus and spotting real life Cottingley fairies throughout the grove.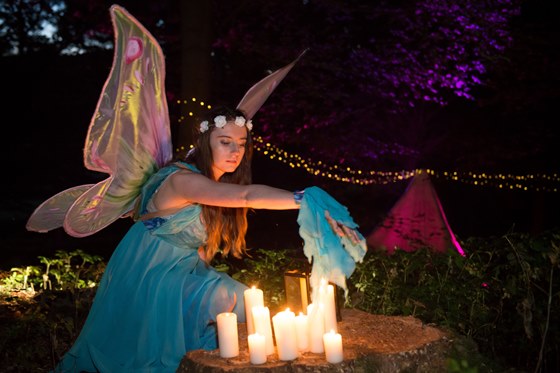 Our creative scoping for this project included many ambles through Broughton's beautiful woodlands carefully selecting areas to dress. Next we sourced props, cast actors and created costumes. We set our in-house Music Producer with the task of creating an enchanting soundscape whilst our Videographers edited film footage for projection.
The big mission for this project was the technical installation. The first time we did this production it had rained the previous day so our Technicians had to wade through the mud to set the cables from the generator! We soon found out who amongst us had spent their childhood climbing trees as we set up hundreds of metres of fairy lights, lanterns and candles.
Guests were taken through the woodland on electrical open air buggies, taking in the magic as they were transported to the dinner venue. Needless to say, plenty were convinced that fairies exist!