Freerunning@ UK Tour 2012
Extreme sports meets stunning backdrops
In 2012 PEEL brought a brand new and exhilarating freerunning show to stately homes all over the UK throughout the summer months. It was the first time that this high-energy, extreme sport toured heritage properties and with backdrops like Speke Hall, Croome Park, Holkham Hall, Harewood House, Wollaton Hall and Bournemouth Littledown Centre, this was much more than just a spectacle of sport.
Our adrenaline-charged show exhibited the agility and strength of some of the best freerunners in the country. These athletic performers negotiated our cutting-edge set with daring feats of gymnastics, combined stunts and martial arts. With huge acts of physical endurance, sheer bravery and some leaps of faith, our performers provided an impressive showcase of their skills, composed with comedy, drama and audience interaction.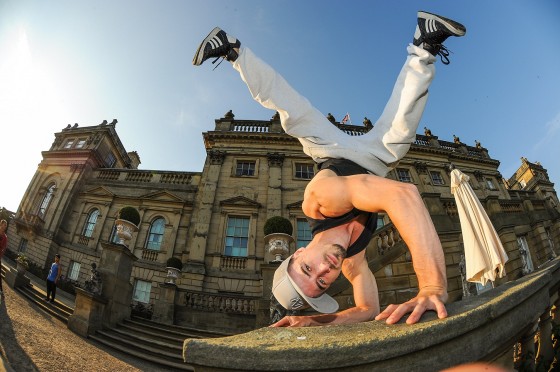 Featuring Creative Director and triple Guinness World Record holder Sam Parham (World War Z, Pirates of the Caribbean 4 and Harry Potter), the show tells the story of Jake, a homeless teenager who teaches himself freerunning.
A successful open audition as a film stunt extra gives Jake his big break, but as his punishing schedule gets underway he realises how much he still has to learn from the likes of stunt coordinator and martial arts expert Scarlett – played jointly by Guinness world record holder Chloe Bruce (Harry Potter, Clash of the Titans 2) and sister Grace Bruce (Harry Potter and Deathly Hallows).
When filming is thrown into crisis, Jake is faced with the biggest challenge of his life, both personally and professionally.
Once again, our national PR and marketing campaign attracted some great coverage from BBC Breakfast and local television, radio and print media. Plus we were able to form promotional partnerships with Hamleys, Delia Online, House of Fraser and AMEX as well as corporate sponsorship from Fujifilm.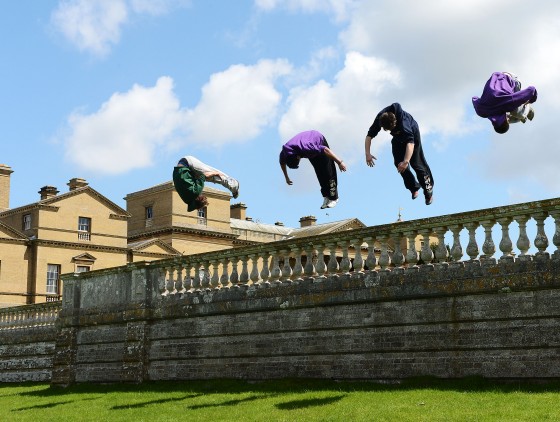 take a look at the freerunners in action!
Holkham Hall, near Wells, provided the stunning backdrop for this spectacular street dance production by PEEL last night


Pauline Riches, EDP24

A spectacle was unveiled for all the family as the athletes proceeded to use the landscape as a springboard for running, jumping, balancing and vaulting over obstacles…the production was over all too soon

Sarah Gill, Nottingham Post

It's the first production of its kind combining classical music with contemporary beats to reflect the changing scenes. A fusion of street-dance with Freerunning choreography and beautiful heritage backdrops

Eastern Daily Press

A must see for all ages ... the beautiful setting of Holkham Hall made for an unusual and enjoyable evening

Dereham Times

Freerunning@ show was wicked! Perfect balance of everything a good show should have. Well worth checking out

Steve Hough, Cheshire

The show flowed fluently, the costumes constantly changed, the scenery was colourful and exciting... thank you for a quality night's entertainment at a fantastic price

Martin Spicer, Bournemouth