The Curse of Skull Island
The fiercest show on the seven seas
The Curse of Skull Island is one of our newest large scale production shows, currently on-board Thomson Dream, and it's an action-packed romp – think Pirates of the Caribbean meets James Bond.
We join the story as the Queen's Navy, in possession of a rather large diamond, are invaded by Captain Jack Spade (Scourge of the Caribbean, tormentor of the seven seas and… licenced dog groomer) and his band of rogues. A few musically timed sword fights and lots of plank walking later, the sailors find themselves stranded on the cursed Skull Island, lured into a cave by sirens.
With a dramatic set turn, we find the captain captured by stick-wielding, face-painted oddball 'Macabre', the Island's voodoo overlord who is hell bent on stealing the diamond. We won't spoil the rest, but let's just say there's a lot of singing, fighting, looting, smashed bottles and a fair few drunken sailors.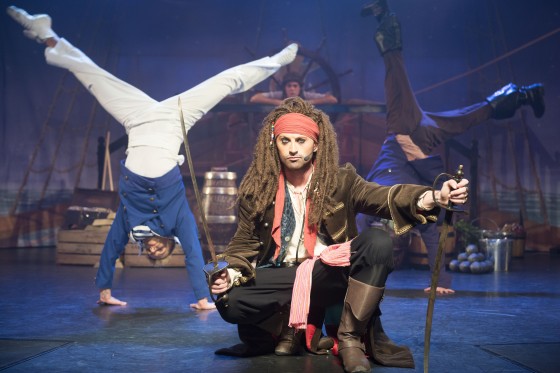 Dramatic set turn
That's right, we've finally seen the installation of a revolving stage set and boy did we go to town to show it off. Half way through the show, the stage turns from ship to land as the entire set spins to reveal new characters and the crazy voodoo island.
Sword Fighting
Our performers were specially trained for the show by professional swordsman Richard Brighton, a martial arts expert and professional fight director. Richard has worked with the likes of The History Channel, Twentieth Century Fox, the BBC and now Thomson Dream's Showteam.
If you think safe sword fighting on firm ground sounds hard, our performers keep up these carefully choreographed routines on a moving stage whilst sailing the Caribbean. This show is certainly action packed.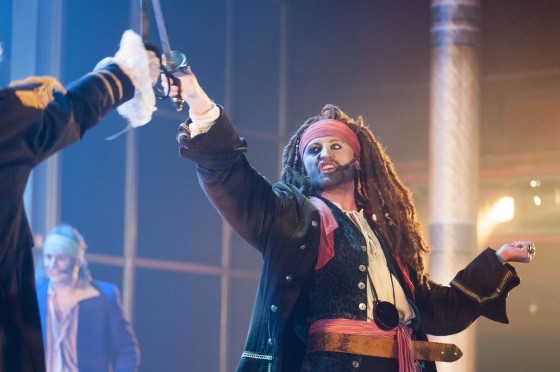 Going that extra mile
We always try to make sure our new shows are incredible experiences, however, this time we went even further and recorded the show's soundtrack in Prague with the City of Prague Philharmonic Orchestra. Founded 60 years ago, this orchestra is responsible for the soundtracks of Hollywood's biggest hits (including The Hitchhiker's Guide to the Galaxy, Oliver Twist and The Duchess).
We sent Martyn Ford, a Conductor and Music Director, to take our original score edits, 'translate' them into a fully-fledged orchestral score and then conduct the recording. Monitoring the recording from our HQ, our creative team used digital technology to watch, listen and feedback information live to the Prague studio.
As the show is nautical in nature, we decided to place emphasis on the woodwind section of the orchestra, with plenty of flute trills, grandisio horn pipes and vivace piccolos. The result… From 'Welcome to the Jungle' to '500 Miles', our original arrangements sound fantastic and certainly capture the vibe of the show.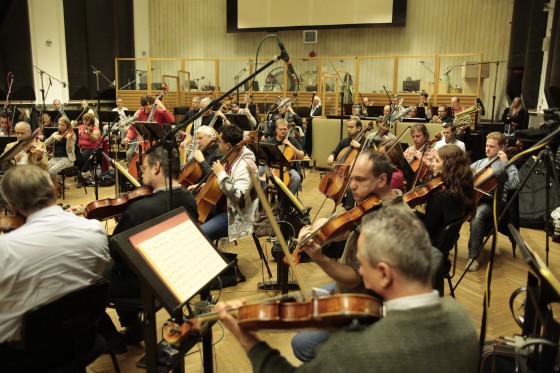 Shiver me timbers - it's behind the scenes footage!
Yesss, definitely the best entertainment ever! Lovely, hardworking people with amazing talent and fantastic productions! Thank you all again!

Gabriella Gabriel

We saw this on the Dream, it was very enjoyable, something a bit different.

Eleanor Bowden

We were on the Dream in March and we had some wonderful shows! A lot of hard work goes into these shows. So enjoyable thank you!

Jan Dave Ireland

On the Dream in May and I'm so looking forward to those fantastic shows!

Caroline Willans

Fabulous show, great showteam just back from great cruise on the Dream have a well deserved rest show team x

Lynn Andrews

The whole cruise team were fantastic!!

Jacqueline Verner